Careers & Workforce Training
Transforming Lives
At Community Action Marin, we've helped to transform thousands of individual lives. By providing key stabilization services in conjunction with high-touch career coaching and job training pathways, we support individuals with attaining employer-recognized certificates and credentials, and obtaining employment in high-demand professions. This evolving body of work will soon include an early care and education apprenticeship program.
Small Business Grant Opportunity - Apply Starting 5/23
The County of Marin, the Marin SBDC, and Dominican University are offering a $2500 microbusiness grant to small businesses in Marin beginning May 23rd through June 30, 2022. This Microbusiness COVID-19 Relief Grant (MBCRG) Program is State funded through the California Office of the Small Business Advocate (CalOSBA) and will fund 105 microbusinesses.
Applicants must be:
Located in Marin County
Been in business since December 2019
Made less than $50,000 gross revenue in 2019
Have the business as their primary source of income
Were significantly Impacted by the COVID-19 pandemic
Currently in business or plan to reopen
Have less than five full-time equivalent employees
Did not receive a CA Grant through Lendistry
The application will take 15-20 minutes to complete and applicants will be asked to provide:
A photo ID (can be a foreign ID)
2019 Tax Return (or if you do not have a tax return, another document that verifies you are a business
W-9 Form
Visit the Marin SBDC website to learn more, to sign up for an info session, and to apply.
Current Services
Kitchen Apprentice Program
Our Apprenticeship Program trains and mentors those seeking a career in the food industry or entrepreneurship opportunities focused on food. The 6-month program will equip individuals with the knowledge and skills to develop and launch a small food business or to join the larger food and hospitality industry. Apprentices are matched with food industry professionals specializing in baking and butchering and get a chance to learn invaluable business and marketing skills. For more information, contact us at 415.526.7590 or
[email protected]
Driver Academy
Community Action Marin has partnered with Vivalon Rides to offer an opportunity for a career as a professional, trained, and licensed commercial driver. With free tuition, you can begin a new career with job security driving commercial vehicles and supporting the community in the process. The Academy provides a combination of in-class and field training to help you successfully pass DMV written exams and behind-the-wheel field tests, CPR and First Aid certification, and job placement assistance. For more information, contact us at 415.526.7590 or
[email protected]
Small Business Development Advising
Small businesses are the lifeblood of Marin, and for many people the only way to create a livelihood. It's not always easy to make a small business succeed however. Marin residents who have an existing business they'd like to strengthen or expand, or a hobby they want to grow into a business, or are just curious about working for themselves, are encouraged to reach out.  In partnership with Marin Small Business Development Center, we offer free business advising for future and current small business owners.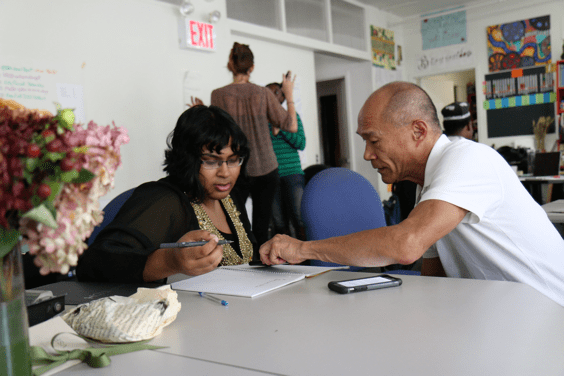 Career Coaching
Finding a new job or career path is a daunting task. It really helps to have someone in your corner. During one-on-one sessions, our experienced coaches provide invaluable help for members to plan for a job change, enroll in needed training, develop resumes and cover letters, practice interviewing, secure interview-appropriate clothing, search for job openings that match their skill sets and interest, and submit job applications.
Past Services
Early Childhood Education Workforce Project
With vital support from the Marin Community Foundation and Kaiser Permanente, this project engaged low-income Marin residents in a one-year workforce training program that gave them the credentials to build a satisfying career in the field of early childhood education. Over the course of a year, participants completed 12 units of Early Childhood Education classes at College of Marin, took English language proficiency courses if needed, attended other skill-building trainings, got on-the-job training and real-time feedback from a model teacher during a classroom internship, and had their progress checked in on at one-on-one and monthly cohort meetings. We're proud to report that 100% of those who completed the program in the first year are now employed as early childhood educators.
Workforce Accelerator
Community Action Marin was proud to be the recipient of a California Workforce Development Board "Workforce Accelerator 8.0" grant for women in the county experiencing homelessness. This program focused both on single mothers and those over 50 years of age. Learn more about Workforce Accelerator by clicking the link below.
Questions?
Reach out to Heather Bettini, Director, Economic Justice, by clicking the email link below.