Check out our career opportunities too!
Become a Community Action Marin volunteer today!
Volunteers truly enrich Community Action Marin, our Marin County community, and the lives of those we serve.  We have lots of ways for individuals and groups to get involved. Take a look at some of the opportunities available now and complete our form below and someone on our team will reach out to you shortly.
Please be aware that we add new volunteer opportunities on a regular basis. If you don't see an opportunity that is a good fit right now, be sure to fill our our volunteer form anyway to be alerted when we make any additions. Have questions? Contact us at [email protected].
Volunteer Income Tax Assistance Program (VITA)
Every tax season, Community Action Marin provides assistance with filling out and filing Income Tax Returns for low-income households. To meet the increasing need for this service for the upcoming tax season, we are expanding our program. Volunteers are needed in several different roles to serve our community. Every volunteer will receive basic online training, but only those helping with tax form preparation will need advanced training. We also have many returning volunteers to help get you started!
The VITA program begins in January and runs through April 2023.  Volunteers usually serve one 4-hour shift per week. Take a look at the available jobs below with VITA in the title and join us in providing this valuable service.
VITA General Volunteer
Help our free Income Tax Assistance Program by aiding in the set-up of equipment prior to each session. Also work on various general tasks. Requires some basic online training but you don't have to learn the tax code.
Additional Volunteer Positions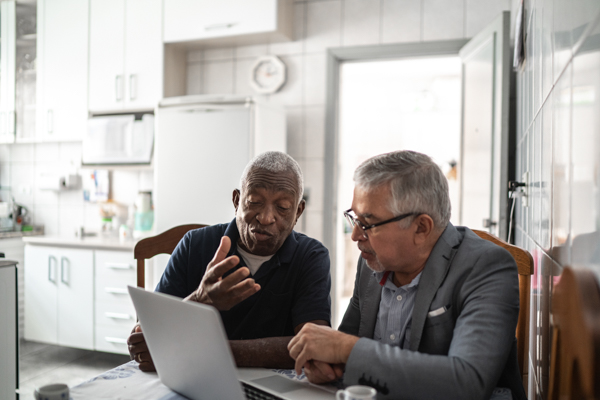 Client Intake Volunteer
We have recently expanded our Rental Assistance Program and are in need of additional help in this important program.
Interested in the above or other volunteer opportunities?
Complete the form below so you can learn more about becoming a Community Action Marin volunteer!
Take a look at our Volunteer Handbook to learn about our official volunteer policy.
Join our List!
Joining our email list is a great way to learn more about us and about volunteer opportunities as they arise.
Take a look at our Volunteer Handbook to learn about our official volunteer policy.
Meet our Volunteer Services Manager!
Meet Jeff Amen
Jeff Amen joined Community Action Marin as a volunteer in October 2021. He was brought on board as the Manager of Volunteer Services, a position that had been open for several months. The volunteer program needed someone to update database requirements, implement approved processes, and develop procedures, all with the goal to create an efficient and robust program.