Overview
At Community Action Marin, we promote prosperity and hope through a powerful set of financial empowerment and workforce development programs. This past year from tax help alone, $128,000 was returned to families during tax season. No matter what your financial situation, we can provide the coaching to help.  Come make a step-by-step plan to create a household budget, rebuild your credit score, manage debt, or get trained for a new career.  As with all of our services, we utilize the agency's Whole Family Approach to make sure needs are met and improved outcomes are ensured at the individual, agency, and community levels.  
The Numbers
66%
of participants saw an improvement in ability to live on their incomes
75%
improved savings, credit or debt by 30% or more
80%
of participants reported stronger support networks
Programs
Our Economic Justice programs cover a broad spectrum designed to give you the tools and guidance you need to improve your financial future. The agency's Whole Family Approach works to ensure that needs are met and outcomes at the individual, agency, and community levels are achieved to strengthen well-being. 
Financial & Credit Coaching
Our financial assistance helps people transform and manage their overall finances, so they can rise beyond subsistence-living and thrive, working towards a goal of financial prosperity. We accomplish our work through one-on-one coaching and give people an opportunity to take advantage of our expert staff, abundant tools, and strong network of partners.   
Careers & Workforce Training
Our program provides avenues for career exploration and strengthens participation in job training, encourages the creation of options for job seekers, including high-demand professions, and builds stronger readiness pathways for people who need assistance to become eligible for career training.  Explore the road to a new career in all of our service areas, and more. 
Resource Connections
We help people find their own way to thrive, financially and beyond. Thriving is not just a matter of money, our coaches help individuals and families design the lives they want, based on their unique needs and goals. Through direct services and partners, we help with housing information, CalFresh applications, and starting or growing a small business.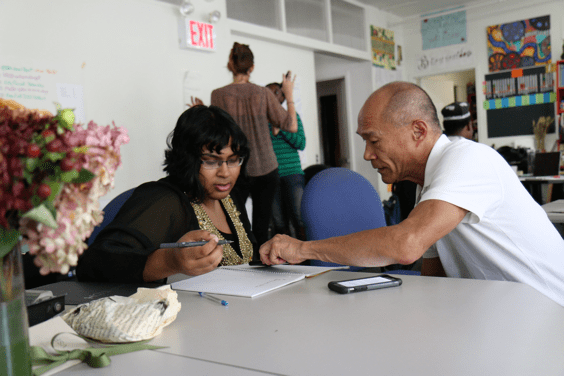 Have questions or want to watch our orientation?
Click on the email button below and we'd be happy to answer any questions you have. You can also go straight to our orientation page to watch a video in English or Spanish or Schedule a one-on-one orientation in either language.