Mental Health & Well-being
Impact
Our Mental Health & Well-being Services provide an atmosphere of warmth and caring and help people living with mental illness find their own way to thrive.  Community Action Marin is committed to teaching, empowering, and advocating for our clients.  We provide a variety of services free of charge to those with a mental illness, as well as to their family members and friends. All of our services are provided by trained Peer Support Specialists who have lived through their own experiences so they're able to relate to people at their most vulnerable.  We're the first large-scale mental health program in California run for and by mental health clients.
Some of those referred to us face homelessness.  We make a special effort to reach out to them through our Outreach Teams, bringing immediate help to people in their darkest hours and connecting them with care and services. No matter who you are or what brings you to us, we're in your corner. 
The Numbers
180
Clients receiving Family Partnership services
4454
Calls to trained Peer Support Specialists – 1,223 hours of English or Spanish support
63
Clients assisted with crisis planning, 2/3 of which reported a decreased need for intensive support)
Programs
We provide Mental Health & Well-being services and referrals through our Success Coaches and Peer Support Specialists.  All agency staff offer a healing-centered approach to meeting the needs of community.  Our programs  give people the tools and opportunities to live with dignity and respect and enable people to be their best selves. The agency's Whole Family Approach works to ensure that needs are met and outcomes at the individual, agency, and community levels are achieved to strengthen well-being.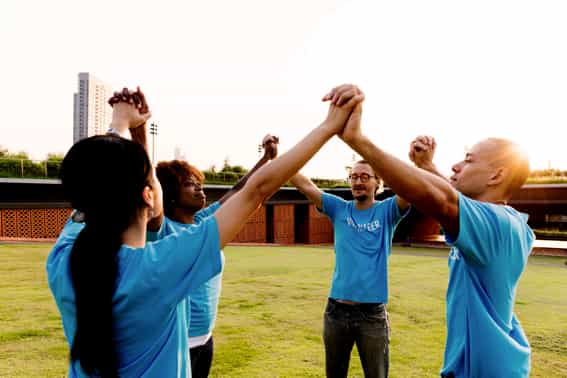 Peer Supported Recovery
As a team of individuals with lived experience of mental health concerns, we are committed to teaching, empowering, and advocating for our clients. Peer specialists strive to support recovery and help clients live a self-directed life, reach their full potential and thrive in community. 

Education & Training
Our Education & Training Program teaches people with lived experience to become Peer Support Specialists, so they too can help others.  Our educational programs are grounded in the core competencies of peer support: recovery-oriented, person-centered, voluntary, relationship-focused, and trauma-informed. 
What we Do
Assistance with completing forms and obtaining Social Security
Information about community programs
An escort to the hospital when someone is in crisis
Help locating medical care for those who may not have a doctor, psychiatrist, or dentist
Help applying for Food Stamps, MediCal, and health insurance
Accompaniment to doctor appointments
Aid in documenting options when working with Emergency Services and other crisis resources
Frequently Asked Questions
Our team of Crisis Planners creates wellness and crisis plans after people have received mental health services to promote their stabilization and recovery. Our Crisis Planning & Wellness team directly at 415.306.3289 or 415.302.0753. 
Our program is for family members of clients of Marin County Behavioral Health and Recovery Services and children under 18 who are clients of the county. We can provide parent coaching, parenting classes, system navigation, resource finding, emotional support, and child mentoring.
In our Peer Specialist I and Peer Specialist II modules, we specifically cover all the core competencies required by SAMHSA in their guidelines, using role-playing and discussion to heighten learning.  We place special emphasis on recovery planning, communication skills and cultural awareness.  We currently do not provide education specifically for people working with children and adolescents. 
Each module of the Peer Education Program meets twice a week on Tuesdays and Thursdays for twelve weeks.  The first two modules are alternated and meet from 1:00 to 2:30 p.m.  Advanced modules are rotated and meet from 3:30 to 5:00 p.m. 
Our courses are designed so graduates can apply for any position that is described as a peer position or, specifically, a Peer Support Specialist position.  Programs working with mental health and substance use issues are increasingly using peers in key positions. 
Find a Path to a New Career
At Community Action Marin, aside from key stabilization services, we also provide high-touch career coaching and job training, supporting individuals with attaining employer-recognized certificates and credentials, and obtaining employment in high-demand professions. 
Coming Soon: CalMHSA-approved Peer Specialist Certification Training will be offered in late 2022.