Changing Systems & Structures
Did you know that Marin ranks as one of the most racially disparate counties in California? The most recent Race Counts report highlights a number of economic inequities in our abundant county that Community Action Marin is working to change; so that all of us in Marin have a roof over our head, nutritious food, and greater well-being. 
Those who live, work and visit Marin, including all racial and ethnic groups, deserve to experience fair and just inclusion. We act to rectify historic patterns of racial, class, and gender marginalization, ensuring that all see themselves reflected in decision making and that all can participate, prosper and reach their full potential.
Community Action Marin works together with partners across government, community, and the public and private sectors to ensure that everyone in Marin has the ability to lead a life of dignity on pathways to self-sufficiency, and thriving.  With a shared vision for equity, our work together is to move into action for change. 
The Numbers
45%
Of students in Marin are people of color, while only 1 in 10 of their teachers are people of color
50K
50,000 people in Marin struggle to put food on the table 

$52.94/hr
Amount renters in Marin County need to earn (3.5 times the state minimum wage) to afford the average monthly asking rent of $2,753 
2023 CNA
The Community Needs Assessment is a roadmap built on surveys and experience. It reflects our findings, strategies, and planned programming covering agency offerings such as emergency assistance, childcare, economic mobility services, housing, and food justice. This plan is what will guide us for the next two years in creating better outcomes.
Equity Internally
Just as we actively pursue equity at the community and societal level, advancing equity within our own agency is a priority. As a leading employer in the county with 200 employees, Community Action Marin is transparent around the race and gender makeup of our staff, leadership, and board of directors. We also seek to attract, retain, nurture, and grow a diverse workforce. Additionally, we strive to be welcoming and inclusive in our policies and practices, with mindfulness on equity to ensure that people of color and people of low income are supported and have equal access to opportunities throughout our agency.
Take a look at how we build a thriving workplace and the tools we use to do the
work of racial and economic justice. Download both tools in English or our roadmap in Spanish.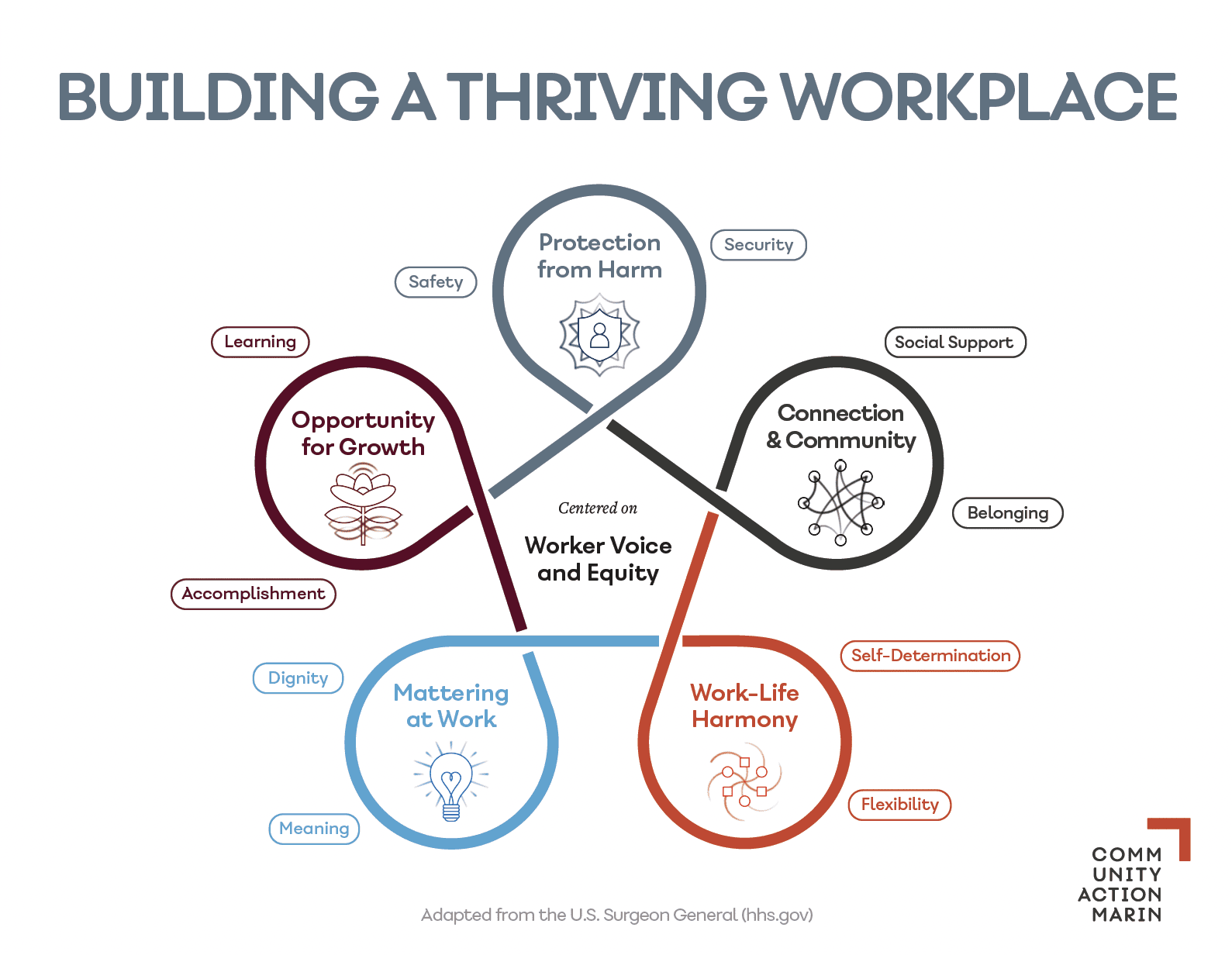 Housing Justice
Over the course of the pandemic, the County of Marin and various cities and towns created eviction moratorium policies to provide much-needed stability for renters across our community. While many renters continue to struggle with the devastating economic impact of the pandemic, the moratoria policies came to an end on September 30th. Through the provision of direct services and advocacy, Community Action Marin and our partner agencies are advancing housing justice locally.
Food Justice
Hunger and poor access to healthy food are realities for people of low income in Marin, despite the county's general affluence. Over the past year, food insecurity among the low-income families and communities of color we serve within the county has intensified. At a time when so many have so much and others have so little or nothing at all, Community Action Marin wants to raise awareness about what we can do together to make healthy, good food accessible to everyone in our community.
Whole Person Care
As a participant in the county's Whole Person Care efforts for a coordinated system of care across health and social sectors, Community Action Marin's team partnered with Health and Human Services and community-based partners to meet the needs of Medi-Cal beneficiaries more efficiently and effectively. The agency won contracts to support a variety of efforts, including Housing Case Management, homelessness related services, and a care coordination platform and network.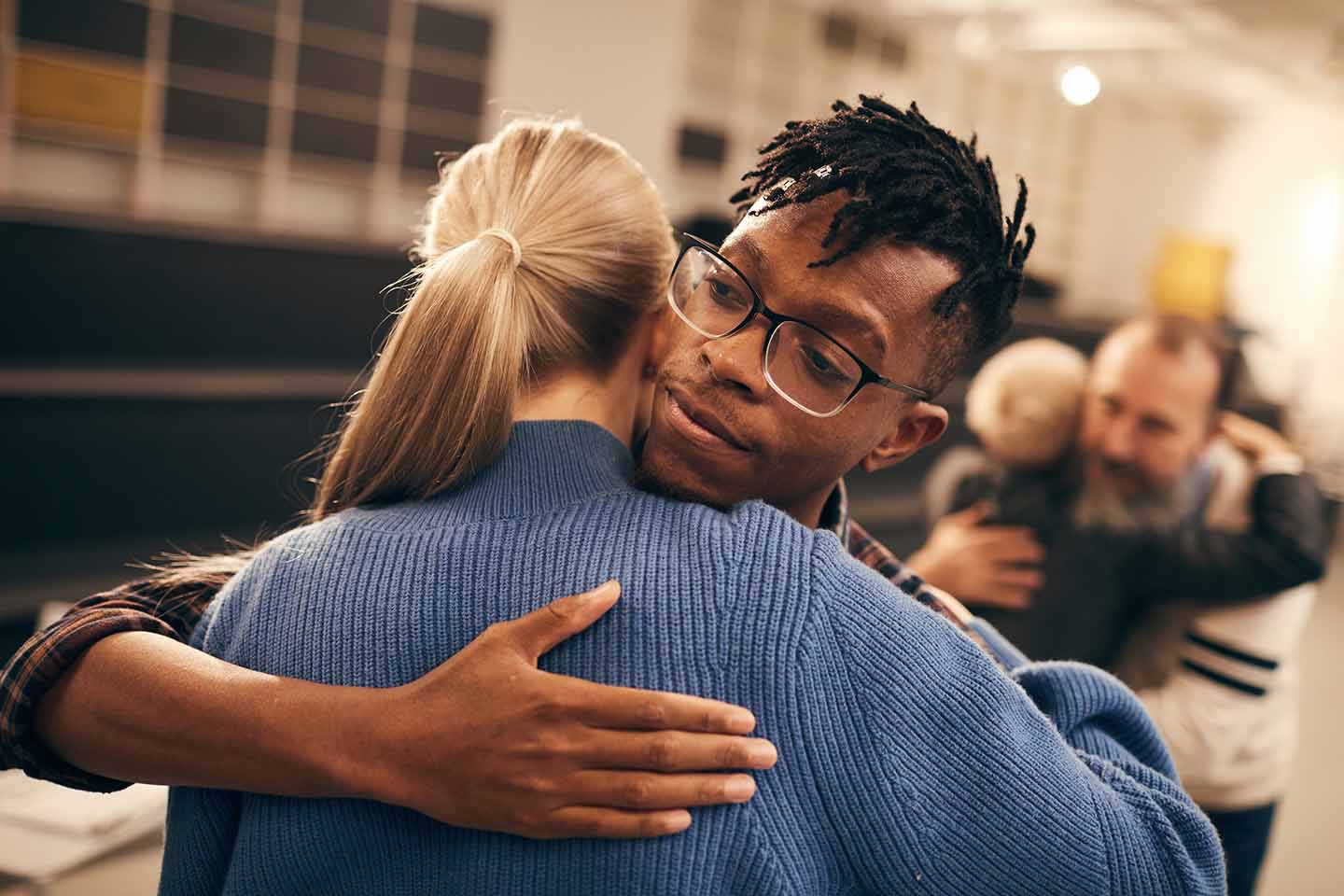 Economic Recovery
A report from the Tipping Point Community and the Othering and Belonging Institute at the University of California Berkeley indicated that among residents in Marin and several surrounding counties "nearly 1 in 5 people entered the pandemic in poverty and remain there today." The concern is that although basic needs may be being met, assistance is dwindling in spite of some communities continuing to struggle. 
Racial Justice
Racial equity for students in Marin will be achieved when race and ethnicity no longer predict the outcome of a young person's educational future. As a Marin Promise Partner, Community Action Marin has made a commitment to identify and dismantle racial inequities, and provide equity-based supports, so that our most vulnerable children can achieve their full potential and achieve a bright and successful future.  
Civic Engagement
At Community Action Marin, we aim to grow public spirit with awareness of how an individual matters in the quest to create change for the better. Through trusted messengers, we have been bringing people together in a spirit of hope for a society that cares for the well-being of all of us.
Pandemic Response & Recovery
Get Involved
Join us in our efforts for an equitable Marin. You can also read our collaborative Equitable Recovery Report now.
Tremendous power for change exists within each of us and our community. Our voices raised together can create a more just, equitable Marin County. I'm excited and inspired by what's possible when we advocate together.
Gina Guillemette
Chief Strategy Officer