Coloring planting pots at the Viviendo Verde Event: A day for our families to celebrate Healthy Living and going green.
During the summer heatwaves, our teachers busted out the sprinkler and had some water fun, ultimately cooling off with cold watermelon.
Fruit bags remind parents about census too!
When it was safe enough, our children were excited to finally return to weekly Friday walks and exploring.
Blackberry picking and extra goodies from the farm at San Pedro! Nothing beats farm fresh fruits and veggies for a little mid-morning snack! Check out the gorgeous huge pumpkin that grew on the farm!
From our organic farm to our kitchen. Full circle: growing our own food and feeding the community.
Supporting racial and economic justice goes hand-in-hand with registering to vote and being counted in the 2020 Census. (July 4, 2020 Racial and Economic Justice is Our America event.)
The Covid-safe Easter bunny is a welcoming site to visiting families at our food distribution center.
The backpack, Chromebook, and food distribution crew!
Francisco Garcia, son Nicolas and daughters Josie (seated) and Amaya (standing) display the signs the kids made before the march and car caravan. Along with wife Jennifer McInnis is Amanda McCarthy, both on Community Action Marin's Board. (July 4, 2020 Racial and Economic Justice is Our America event.)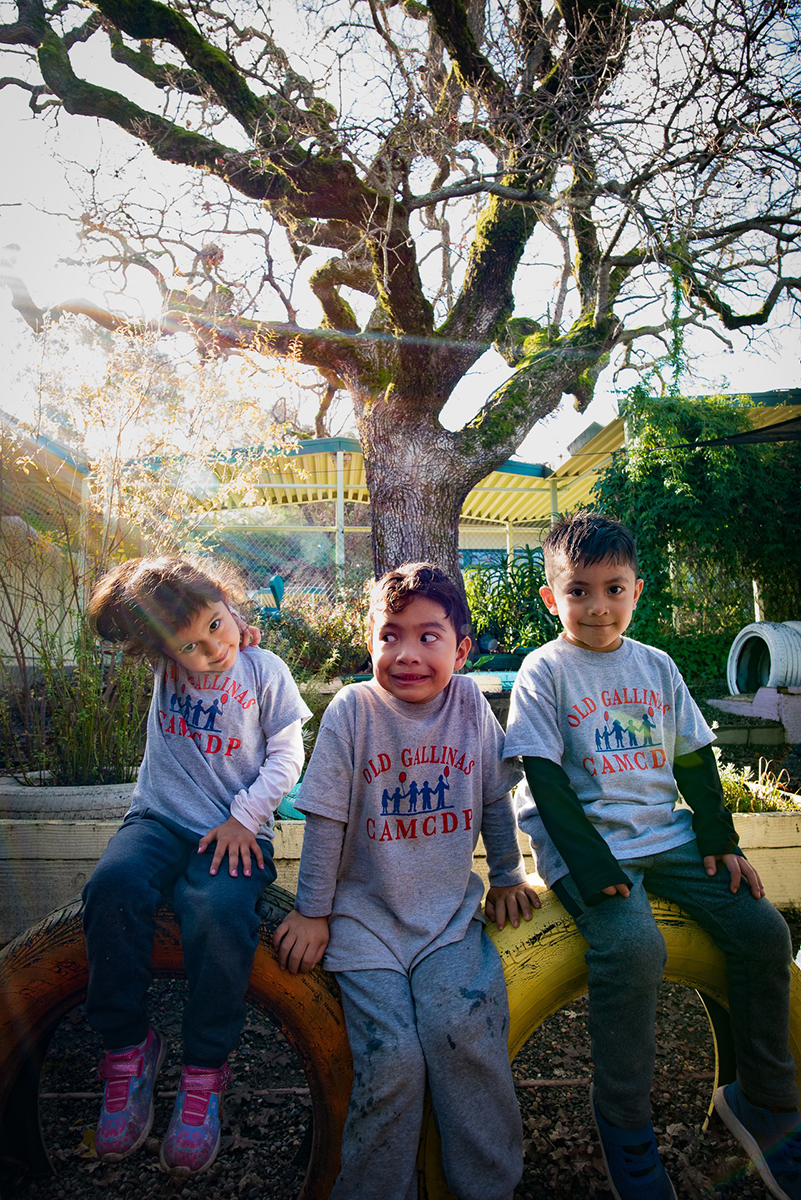 Old Gallinas pals.
With the help of Habitat for Humanity, we now have an orchard. A powerful moment of realizing a shared vision in community.
Our team helping with the Hamilton Elementary School lunch distribution site.
Fun Friday's walk of over 100 children, pre-Covid, is the highlight of the week.
The Rollin' Root, a Farmer's Market on wheels makes a weekly stop at Old Gallinas Children's Center to get fresh fruits and veggies to our families. All food is grown on local farms and brought together through AIM (Agricultural Institue of Marin).
Our children learn about organic farming at the Old Gallinas Children's Center's outdoor learning and production farm.
Exploring our 2nd garden at Old Gallinas Children's Center on harvest day!
We love to see happy faces on all our children.
Besties forever!
Darcy Woodall, Enterprise Recovery Center Manager, and Annie Louis, Peer Education Instructor, fight the stigmatization of Mental Illness for Mental Health Awareness Month.